Quality ControlHome > Manufacturing
In order to guarantee quality, we strictly carry out ISO9001:2008 standard, both incoming materials and final products are strictly inspected with random inspection and mutual inspection. 100% satisfaction is the promise we offer to our customers.
Racotech is an ISO certified company, we use documented and proven efficient process to ensure that quality is assured covering from engineering, procurement, manufacturing, testing to post-sale lifecycle of products.
Incoming Materials Inspection
Full Inspection for important parts Random Inspection for other parts
Machining Process Inspection
Inspection during Process QC Inspection
Assemble Process Inspection
First Final Product Inspection Process Inspection QC Inspection
Final Products

Product life is one of the most crucial factors by which users judge the product design and manufacturing techniques. At Racotech, product durability and reliability is tested in the Tumbling Barrel Test.
A number of 20 randomly selected geophone elements are placed in a tumbling barrel to stimulate repeated falls which may occur to such devices during use. A tumbling barrel is a recommended instrument to perform such a test.
Racotech's tumbling barrel features a diameter of 1.8 meters while most international standard tumbling testers are designed 1.5m in diameter or less. The barrel is turned at a rate of 20 revolutions per minute resulting in 1200 falls per hour generating hourly impact equivalent to an approximate one year time in field service.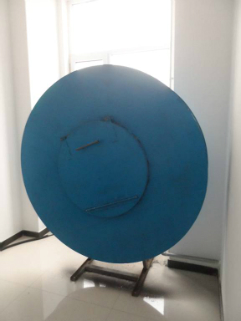 During the test in the tumbling barrel, each geophone element falls at approximately 1.6m at every revolution. The entire process is monitored and after every 1,200 revolutions the performance and condition of the elements are check visually and when the test is finished essential parameters of damping, sensitivity, natural frequency, impedance and distortion at 12Hz are re-measured to ensure it's up to standard.
Each element needs to withstand up to a total of 5000 falls in the Tumbling Barrel Test and all parameters need to remain unchanged to be qualified for sales. The test result speaks for the high quality of Racotech's products at all times.